Demonstration of the "Evacuation Guidance System," a Multilingual Visualization System to Enable Safe Evacuation During a Large-Scale Disaster
We are currently conducting demonstration experiments on our "Evacuation Guidance System," which provides information on the operating state of transportation facilities, provision of temporary accommodation, and more in Japanese, English, and other languages through integration of multilingual audio broadcasts with image/text information. The system first provides safety guidance through on-street digital signage for foreigners, seniors, and people with disabilities, who are at risk of being left out of the loop during an emergency, before providing information on transportation facilities and temporary accommodation. We will continue making improvements to enhance the effectiveness of the system, while aiming to bring local governments and public transportation providers on board.

Town Recorder Remote Viewing Service
This telecommunication contract service uses our camera system to enable real-time video viewing from remote locations, via PC or smartphone. It supports remote broadcasting of audio as well as video. It is possible to check the situation at the monitoring location by camera, and then provide the necessary information quickly by voice. As well as targeting crime through the "Town Recorder" outdoor camera system, which integrates camera-based shooting and recording functions, the service also responds to growing needs around disaster prevention, including monitoring of river floods caused by heavy rain, thus contributing to the creation of safe and secure environments.

Multi-language Broadcasting Services for Foreign Visitors in Japan
This service is intended to provide information to foreign visitors in Japan in public transportation and commercial facilities. Users select multilingual synthesized voice announcements from a tablet terminal or PC on which the dedicated software is installed. It can be used with existing broadcast facilities, and the software can be customized to meet a variety of operational needs. The service supports four languages: Japanese, English, Chinese (Mandarin), and Korean. Catering to the increasing number of foreign visitors in Japan, this service enables on-the-spot multilingual announcements to be provided promptly, as required, via tablet terminals and other devices.
Successful Application of Voice Clarification Technology to Enhance Audibility for Seniors
We have developed our own "voice clarification technology," which we have already put into practical use, to improve speech audibility for seniors. This technology enhances audibility for people whose hearing has deteriorated with age, by altering the frequency and sound pressure. We have conducted demonstration tests with more than 300 subjects, including seniors with symptoms of hearing loss and people with normal hearing, verifying differences in pitch and loudness of sound. These tests have provided approximately 6,000 patterns of experimental data, which we have used to improve the technology. We will continue to apply this technology to a variety of products as we work to improve the technology, delivering enhanced audibility to both seniors and people with normal hearing.
Use of Technology to Enhance Voice Audibility in Public Transportation
Our voice clarification technology has been introduced at the ticket gates of Gotanda Station on the Toei Subway in Tokyo, improving the audibility of announcements in the noisy station environment. The acoustic design was based a survey of the sounds that people with age-related hearing loss find easy to hear, and for the Gotanda Station ticket gates, where simply adding speakers did not produce the desired effects, we developed announcements that are not only "audible" but also "intelligible." We are doing our part to ensure that information reaches as many people as possible.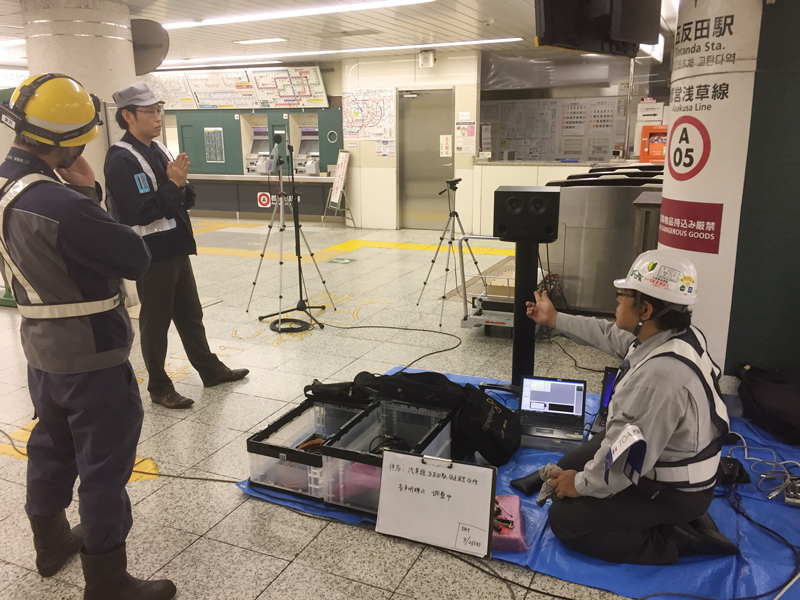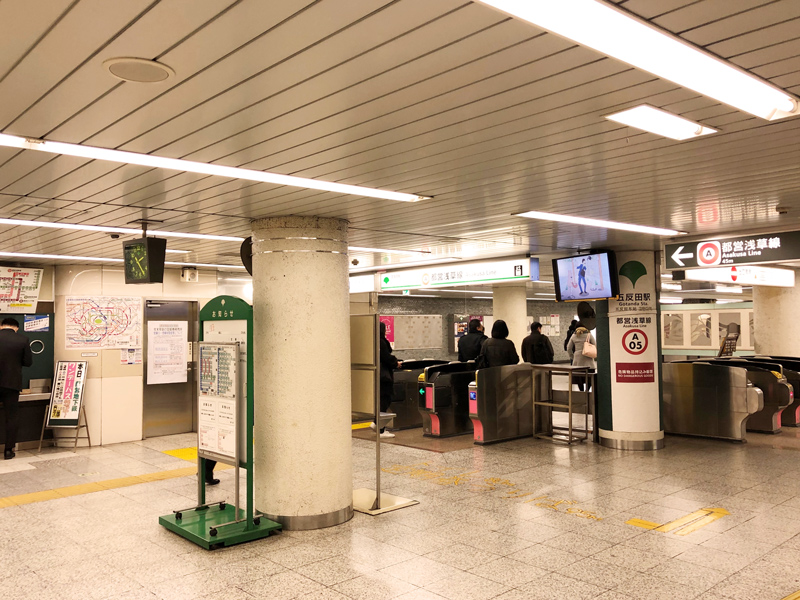 Usability Testing of The Audio Guidance with Probing Cane Recognition System
Demonstration testing of our Audio Guidance with Probing Cane Recognition System, which detects the white canes used by people with visual impairments to help secure their safety, was conducted at the Vision Park of Kobe Eye Center to verify the system's usability. This TOA-developed system recognizes white canes from camera images and automatically broadcasts voice guidance. By tailoring the guidance to the location, it is possible to assist people with visual impairments who use white canes. What sets this system apart is its ability to recognize ordinary white canes, as opposed to specialized ones. Going forward we will take steps to improve the usability of the system, such as improving the accuracy of the white cane recognition.