Cultivating the "Power to Listen," Contributing to Disaster reduction & prevention
TOA Disaster Prevention Theatre of Sound Puppet Show: Since 2016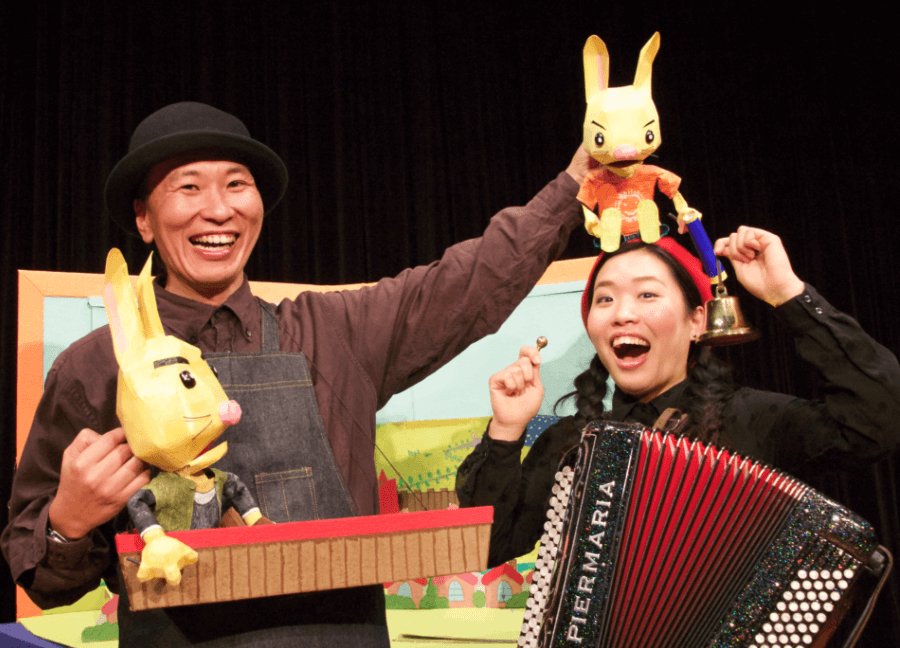 here are many sounds in society that warn us of danger: fire or tsunami alarms, car horns, the sound of thunder or heavy rain... When we hear an unfamiliar sound, the important thing is to ask ourselves, "What's that sound?" then think, "What should I do to protect myself?" and act accordingly. To share this important message, we have created our very own puppet show, "The Lookouts of KanKan Tower" (Kankan-to no mihari-ban), based on the theme of sounds that warn us of danger. We are performing the puppet show at nursery and elementary schools, local disaster prevention facilities, and other venues throughout Japan.
○ Special website
https://www.toa.co.jp/sustainability/kkt/
Feedback from the Audience Questionnaire
I'm glad that my child and I could watch the show without feeling worried, because they didn't "scare" the children but helped them learn while having fun. There were some parts where we had to join in, and even the little children were able to watch the whole show without getting bored. (Parent of a child at the show)
(We watched the show as part of Integrated Study), and I think it's a good activity for teaching the lower-grade students about disaster prevention. (Teacher)
Bell was a little absent-minded, but he tried his best. His father tried hard too. From now on, I'll stick to my promises, I thought. Please definitely come back here again. (2nd-year elementary school student)
Educational & Academic Support Activities: Supporting Children's Encounters with Music
TOA Meet! Music! Concept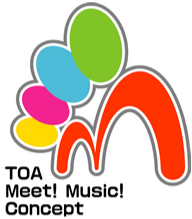 In the process of growing up, each generation of children encounters music in its own way. TOA offers a variety of musical programs catering to the different stages of childhood development.
In the TOA Music Workshops for elementary and junior high school students, children encounter music for the first time, and experience the joy and pleasure of taking part in music together with their friends. In the "Try-Yaru Week" series for junior high school students, they experience the joy of musical creation while producing and performing their own compositions. In addition, we provide junior and senior high school students living in the suburbs of Kobe City with opportunities to take part in musical activities, with support from the Kobe Youth Jazz Orchestra.
We want the children to rediscover their own musicality and powers of expression through contact with music. We also want them to discover the "new you" that they never knew existed. We will continue to do what we can to make this happen. What we hope to communicate at TOA is the potential of children. We will continue to support wonderful encounters with music, as we have done throughout the years.
TOA Music Workshops: Since 2005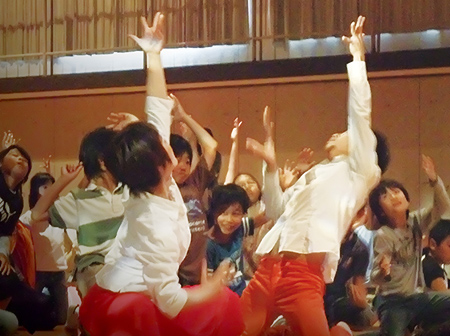 TOA Music Workshops are our hands-on musical programs for elementary and junior high school students. Through the experience of listening freely, feeling, and expressing music physically together with their friends, children's senses are awakened, unlocking the door to creativity and expression. What children discover through this experience is a "new you" that they never knew existed. Children take part in the program with others in the same school year, as part of the Integrated Study period and other classes. The schools that join the program are determined each year through an open application process.
Comments from Children Who Took Part
When we went into the gym at the beginning, we could hear strange sounds, which was really exciting. When I danced along, it was like a flower of rhythm had bloomed inside of me.
It was a beautiful sound that lifted my spirits and made me feel relaxed. As I lay down and closed my eyes, the music seeped into my mind and reverberated through my body. Music really took on a new kind of magic that day.
I realized that our daily lives are made up of many different sounds.
As I visualized the images in my mind, with only the sounds that flowed into my ears, I began to see the instruments right there in front of me, so it felt strange. Even though I couldn't see the expressions on their faces, I could tell that the people who were performing were genuinely enjoying the whole musical experience. I began to feel that we are connected by "music"—which literally means "joy of sound" [when written in Japanese]—and the only slight difference is the way we enjoy it.
Try-Yaru Week: Since 1998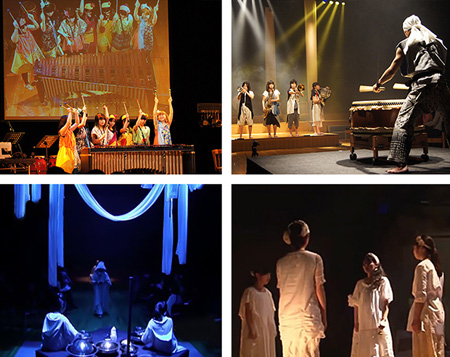 "Try-Yaru Week" is an initiative of Hyogo Prefectural Board of Education. Second-year students at all public junior high schools in Hyogo Prefecture can take part in a week-long extra-curricular workshop at a nearby facility or company. Every year, TOA welcomes students from Minatojima Junior High School in Kobe City to create musical compositions in collaboration with professional musicians. The pieces the students create are presented at a concert held at the Xebec Hall on the final day of the program. The concert is attended by school officials, alumni, and many local residents and is a popular opportunity for interaction between businesses and the community.
Feedback from the Audience Questionnaire
Performer (2nd-year junior high school student)
We created the concert piece in the short space of five days, focusing on how best to help the audience enjoy and derive pleasure from the performance. It was hard, but the sense of accomplishment after the show was greater than any I'd previously known, and I was glad to have taken part.
I was very surprised to learn that, besides the performers, concerts involve so many other people behind the scenes, including the lighting crew, the sound crew, and the stage crew.
I was able to have valuable experiences, such as improvisation, which I rarely have a chance to do, and performances using everyday objects such as pots and pans. I was able to learn new fun and interesting things about music.
The Try-Yaru Week helped me think about my future. I want to find a job related to music in the future. So I will remember and make use of what I learned at the program.
Comments from the Audience
It was a very moving concert. The joy of music really came across. It's amazing how they got this far in five days!
It was so much fun. It reminded me that music really is the "joy of sound."
The various "renaissances" were really interesting!
I enjoyed the handmade feel of it all.
It was moving because I could feel how they were thoroughly enjoying it, working the instruments like they were a part of their bodies.
Kobe Youth Jazz Orchestra: Since 2017
TOA sponsors the Kobe Youth Jazz Orchestra, which was born out of a desire to give junior high and senior high school students the opportunity to be musically active in the jazz city of Kobe. Selected through auditions, members hone their skills under professional musicians and jazz-playing university students, and take part in events in and around Kobe City. We are sharing the magic of jazz and the joy of music.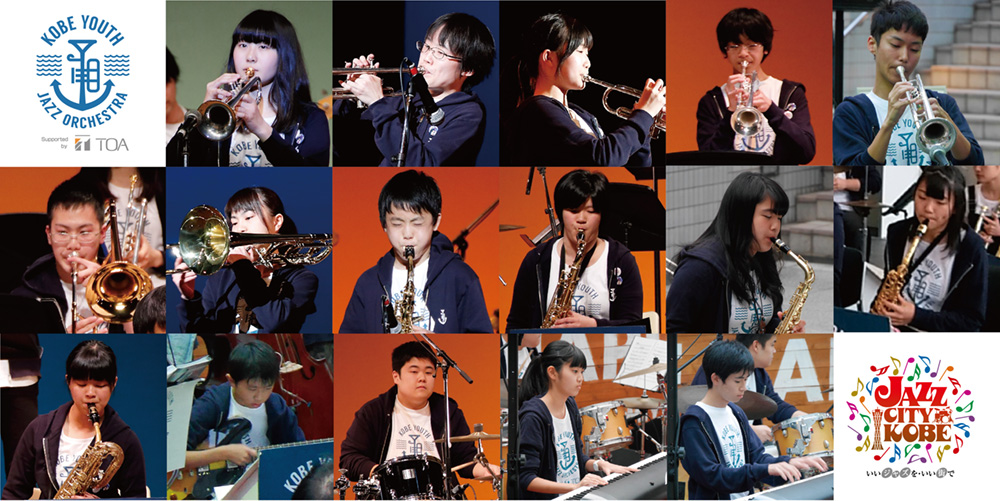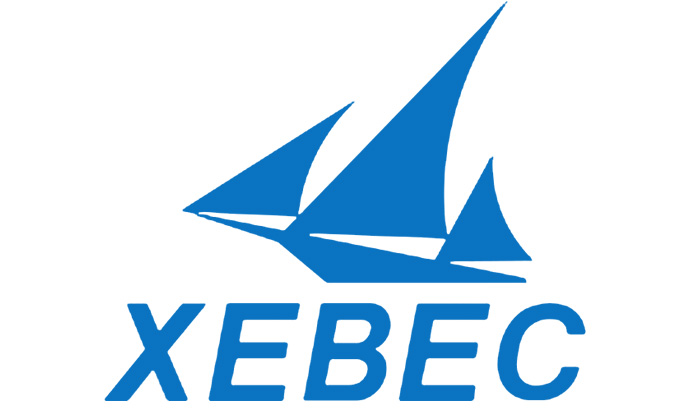 Xebec Hall was established in 1989, as the TOA Group's sound information transmission base. We wanted to explore the future shape of sound by sharing information with wider society, and eliciting feedback from the public. That was the starting point for Xebec Hall.
The hall has a capacity of 300 and is fitted with the latest TOA audio equipment and a variety of lighting and video technology, providing a multipurpose space for performances and creative activities across a wide range of genres. It is currently used as a base for our mécénat activities and as a test site for product development and customer product demonstrations.

Nurturing Human Resources Capable of Contributing to security and safety Society Through Industry-Academia Collaboration
We have been dispatching lecturers to Kansai University of International Studies to teach "Introduction to Disaster Prevention," a business collaboration course, since it was first offered in 2016. In this course, we are investing our company resources in nurturing student disaster prevention specialists through activities such as lectures on the importance of sound in disaster prevention/mitigation. In 2018, we collaborated in a global study conducted in Indonesia, where earthquakes and volcanoes occur frequently, with the aim of developing knowledge on disaster crisis management. As the global need for disaster crisis management increases, we will strengthen our efforts in industry-academia collaboration to nurture human resources capable of contributing to disaster response.